The following is one of my favourite Christmas stories that can be found in The Happy Squire: Christmas Stories to Encourage & Inspire.  As a reminder this book is available on Amazon or you can download a PDF for free from http://www.chaddavid.ca/books/.  If I can ask a favor, it'd be really wonderful if you could tell others about the book because, like any good artist, I'd like to see my work appreciated and help people smile.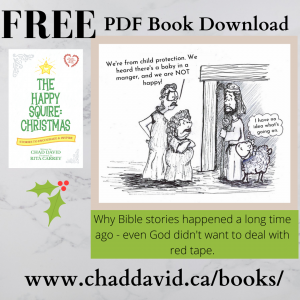 Why Santa Gives Coal
In a pleasant time, in a pleasant town, in a pleasant home, there was a pleasant family (this was clearly before the internet ruined the world).  They were a very kind and friendly family (this was definitely before the internet).  One day, the son, Johnny, asked his mom how Santa in all his goodness could leave coal for kids who were on the Naughty List; it seemed mean.  His mom told him that was a very good question and then explained that Santa wasn't punishing the kids as much as he was encouraging their parents.  Santa figured if the kids were on the Naughty List, they'd be very frustrating to handle, and by giving the kids a gift the parents could use to heat the house, Santa was helping the parents.  Plus, there was hope that this unwanted children's gift would inspire the naughty kids to behave better.  Johnny was really glad his mom could help him see that Santa's actions made sense.  He wanted to like Santa and this made it easier.
That following Christmas, Johnny had been dreaming of Santa bringing him a Lionel Electric Train (this was definitely before the internet), and like every child his age, he would write a letter asking for it from Santa.  Actually, he wrote many letters to Santa because he was so excited at the idea of having a train with its own whistle.  Fortunately for Johnny, he had been raised to always do his best to be good and to be considerate of others.  He was definitely on the Nice List, so things were looking good for him.
That December, however, followed a tough season.  As pleasant a town as it was, business was business, and there were layoffs at the local factory.  Like many others in the town, Johnny's dad was laid off, which put his family in a scary spot financially.  Suddenly, Johnny's Christmas wish seemed too selfish, and he felt like he had to do something for his parents.  Normally, Johnny's parents gave him a little money to buy presents for them and his siblings as he was too young to have a job and they liked the idea of their children being thoughtful and giving to others.  That year, however, he'd have to be really creative because there wouldn't be any money for him to use, which was at a time when his parents were in the most need for his thoughtfulness.
Johnny was scared for his family.  He didn't know what they would do or if they'd lose their house.  He was also scared because he had so badly wanted a Lionel Electric Train from Santa, but how could he receive such a wonderful gift at a time like this?  Even if he was given the train, he couldn't enjoy it if he was afraid of being homeless.  There must be something he could do to help his parents… and then he remembered what his mom had said: "Santa gives coal to naughty children to help the parents."  That's what he could do.  He could always ask for the train next year.  This year he needed Santa's help to do something for his parents, and what could be better than taking away some financial stress?  This idea gave him hope, but what would he do in order to get on the Naughty List?  He'd been so good that year; his naughtiness would have to be even better (so to speak).
The worst thing Johnny could think of doing was murder… but that was too far – very too far.  He then thought he could have an affair; that would be bad… but that would mean he'd first have to get a girlfriend and girls had cooties.  Plus, he hadn't had the proper cootie shot yet to protect himself, so that was too risky.  The third option was doable – he could bully a smaller kid.  The problem was he didn't want to actually hurt anyone.  There needed to be a line of doing something naughty, but without it being hurtful… and that's when it hit him.  He could steal something!  That'd be awesome!  He could rob a train like in the movies… Wait, no; a nine year old isn't going to scare grownups into giving him their money with his squeaky little voice.  Then he thought he could rob a bank… Wait, no; he could get arrested or shot… or worse, he could miss school hiding from the police (Johnny was a serious geek and loved school).  Johnny then had the epiphany of all epiphanies.  He could steal something and then return it after Christmas.  Santa wouldn't know he was going to return the item.  He'd just know that he stole it, which would make him be on the Naughty List this year and back on the Nice List next year.  It was perfect.
Johnny was really excited about this idea and with Christmas only days away, he had to act fast.  He decided that the safest thing for him to steal would be a bag of animal feed from his friend, Tom, who lived on a farm up the street.  He would steal the extra feed they didn't need for a few weeks, so he could return it after Christmas.  No one would even know it had been missing.  It was perfect.
That night when everyone in Johnny's house was asleep, he snuck out of bed and out of the house to go to his friend's farm.  He was always a good boy and doing something that looked so bad actually made him really excited.  The best part was there wouldn't be any guilt either because he knew he'd be returning the feed in a couple of days.
To see Johnny sneaking down the street, an outsider would wonder if he had done this before.  He moved stealthily and was wearing all black.  He was even wearing a black toque and a black scarf to hide his face.  The only thing not black was the white tag dangling off the toque.  Johnny had bought it with the plan to return it after using it, which was like a bonus naughty thing to go with his break and enter experience.
Everything was going as planned, Johnny was able to sneak into the barn where he knew the family kept the feed and no one was around.   Excitedly, Johnny grabbed the bag… and that's when he realized the flaw in his plan – the bag was too heavy for him to lift.  He tried dragging it, but he was just too small to move it.  Fortunately, Johnny didn't panic.  He had seen too many movies where the robber panics and does something really dumb that gets him in trouble.  Instead, Johnny took a second to think and look around the barn.  That's when he saw it – a saddle.  Johnny realized this was just as good an idea because the only thing the horses might be used for at this time of year was to pull a sleigh and they didn't need a saddle for that.  Johnny was proud of himself for keeping his cool and thinking through the problem.  The saddle would be heavy, but he could manage.  It was perfect.
As Johnny picked up the saddle, he heard a familiar but nervous voice.  "Put the saddle down or I'll stab you with this pitchfork… this very dirty, poopy covered pitchfork."
Johnny quickly took off his mask and said, "Don't shoot!"  He had clearly watched too many bad action movies where that's what people said.
"Johnny?" exclaimed a very surprised Tom. "What are you doing?"
Johnny couldn't lie to his friend; he wasn't that bad a kid yet.  He was honest about everything.  He told Tom about his dad losing his job and how he wanted to give his parents coal to help heat the house.  Tom loved the idea and shared that his dad was struggling financially, too.  With a smirk he said, "I want in."
"You can't steal from your own family," protested Johnny.
"Then we need to do something different," suggested Tom.  "After all, you've already admitted your plan, so now Santa will know what you're doing."  Johnny nodded to show he understood and then… they stared.  They didn't stare at anything in particular.  They just stared as they thought about what they should do.  After a long pause, Tom cheered, "I got it!"
"What?" asked an excited Johnny.
"Ummm," stammered Tom.  The next thing Johnny knew, he got punched in the face.
"What was that?" questioned Johnny.
"My ticket to the Naughty List," smiled Tom.
Johnny paused for a moment as he thought about this new idea, and without warning – bam!  He punched Tom in the face, which caused both boys to groan.
"Punching really hurts the hand," complained Johnny.
"What about my face?" whined Tom.  "Why'd you punch me so hard?"
"Sorry, I got excited," apologized Johnny. "How about no face shots?"
"Good idea," agreed Tom. "And we don't have to hit so hard that it hurts."
After a brief moment, the two boys looked at each other and then Tom hit Johnny in the shoulder.  Then Johnny hit Tom in the shoulder.  Looking into the other's eyes, they nodded and then started hitting back and forth.  This continued as the boys got into this strange kind of game where they'd hit each other and then they'd yell things like "Did you see that Santa?" "How about that?" and "Are we on the Naughty List now?"  The boys did this until they were too tired to keep hitting each other.  As bruised and sore as they were, they felt fantastic.  They felt accomplished having done something to deal with their fear and they had connected with each other on a whole new level.  It was the kind of connection that can only happen when two people work through their pain.  It was perfect.
The next day was the last day before school ended for Christmas holidays.  All the kids were sad.  They weren't sad that school was almost done (obviously), but they were all sad and scared about how their families were struggling financially.  The tough fall season had affected everyone in some way.  All the kids were gloomy… except Johnny and Tom.  Later in the day, some of the kids noticed how they were the only ones happy.  This led to one of them asking why they weren't sad like everyone else.  The boys hesitated, but they were so proud of what they did the night before, they had to tell the small group of kids around them.  Very quickly, the word got out and the entire student body was soon crowded around Johnny and Tom.  They wanted to see how it worked… so the boys showed them.  Johnny and Tom pointed out there were to be no face shots to limit evidence that would upset their parents and all punches needed to match in force in order to prevent anyone from feeling mistreated and limit the risk of someone getting angry.  And that's when it started.  Tom hit Johnny; Johnny hit Tom; and suddenly, all two hundred kids in the school were punching each other.  What made this scene even stranger was the kids were soon screaming things like "Watch me Santa! I'm naughty!" and "I'm so knotty I use the improper form of 'naughty' in my outburst!"  As an outsider looking in, this was hilarious (unless you were a teacher or principal at the school).  It was hilarious because it was such a contrasting scene of violence and happy children; it was a fight that seemed to make the kids happier.  It wasn't hilarious to the school staff, however, because they were naturally panicking about tears and possible injuries.  Unfortunately for the teachers, when you have a group of kids wanting to be on the Naughty List who are having a great time punching each other, trying to stop it just means you're getting punched.  In fact, the kids enjoyed punching the teachers so much they forgot the rules of not too hard and no face shots – oops.
After about fifteen minutes, the kids started to wear down and lose interest.  The school staff didn't know what to do because it was such a bizarre experience having all the school children in a punching fight with a joy the teachers had never seen before.  It brought even more joy than recess ever had, so that's saying a lot.  Eventually, it came out that it was Johnny and Tom's plan to get on the Naughty List to help their parents.  The teachers started by affirming the students they would all be on the Naughty List, but then added since there weren't any serious injuries (minus Mr. Jacobs's injury, but nobody liked him anyway), they would pretend it never happened.  The entire school body was then warned that if it happened again, there'd be serious consequences for those involved.
Johnny and all his schoolmates returned to being good and obeyed this request.  It helped that Johnny figured he was safely on the Naughty List as he had been sent to the principal's office for instigating the biggest school fight ever seen.  He felt good knowing he had done what he could for his family and there was a sense of community that developed with his schoolmates that would keep them connected for the rest of their lives because they would always have this crazy story to talk about: "Remember that day we broke Mr. Jacobs's nose?" (Sometimes stories get exaggerated over time… but this time it didn't.)
Christmas morning, was a mix of feelings for Johnny.  He woke up dreading having to explain to his parents why he was on the Naughty List, but at the same time, he was also excited to have a gift to help them.  Before going to the tree, Johnny asked his parents if he could talk to them.  They said that wasn't the time because he had to go see what was under the tree.  He tried to tell them that that's what he needed to talk to them about when, from the other room, he heard a whistle.  The train?!  Johnny was shocked.  His plan didn't work!  How did it not work?  Was Santa crazy?  Johnny quickly ran into the other room and there was the train he had so wished for and beside it was a heaping pile of coal.  Johnny was very confused, but there was a letter addressed to him.  He quickly opened it and it read, "Dear Johnny, I love that you wanted to sacrifice your own gift in order to help your parents.  That was very loving of you and very deserving of being on the Nice List.  How about next time you just send a letter asking for some coal on the side? Love Santa.  PS I have to say, you had all of us in the North Pole laughing at the scene of your entire school punching each other with big happy smiles on your faces and screaming at me to watch.  Arguably the funniest part was seeing Mr. Jacobs get whacked a couple times.  You know, he never made the Nice List? What you did is good for building community, but next time stick to sports or music."
Johnny couldn't help but smile and cry at the same time.  He was proud for being able to give Santa something to laugh about and, at the same time, he couldn't be more excited to give his parents his gift (provided by Santa).  He then decided to tell them what had happened because they were a little confused by the coal.  After the story, and when his parents had stopped laughing, they both hugged Johnny and told him how much they loved him.  They also said that it was their privilege to take care of him and they would always find a way to provide for him.  He didn't have to worry.  He just needed to enjoy being a kid… preferably without violence.
The end.